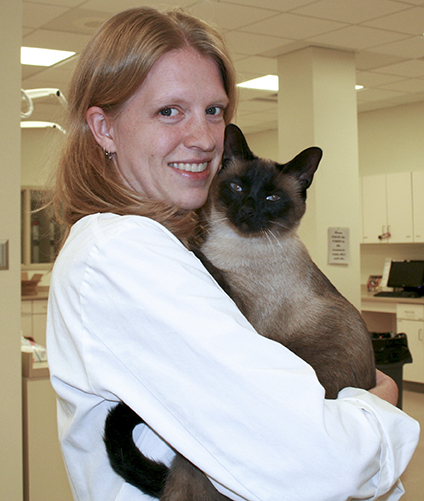 Balanced Work Life
Like many of her classmates, Dr. Laura Tonkin Van Vertloo had a plan when she entered veterinary school at Iowa State.
Those plans didn't include returning to the College of Veterinary Medicine as a faculty member.
Yet that's where she is and has been since 2015 after completing both a rotating internship and residency at Purdue University.
"As a student I was pretty sure I wanted to do small animal general practice with eventual ownership," Van Vertloo said. "I had several experiences with business courses and summer jobs at small animal first opinion clinics. I didn't like any of it."
Instead as a student, Van Vertloo gravitated to internal medicine. It was internal medicine that she did her residency in at Purdue. And today it's the specialty area where she practices as a faculty in the Hixson-Lied Small Animal Hospital.
"I became pretty convinced I wanted to specialize in internal medicine and then I began toying with the idea of working in an academic setting," she said. "Now that I work here, I really like the scientific process we go through as faculty members.
"But it was never my intention to come back to Iowa State."
Van Vertloo admits it was intimidating when she first arrived on campus, yet "it still felt natural" to be to back. She engaged with students with her unique perspective of being a recent graduate.
It also helped that many of her colleagues in the hospital were also recent hires. That made the transition from former student to faculty member easier.
And as a faculty member, the balance between clinical work, teaching and research keeps Van Vertloo coming back to the college every day. 
"I love clinical work," she says. "I really enjoy working in the hospital and with clients, but internal medicine can be exhausting. These are complicated cases and many times the patients have a poor prognosis. As a faculty member I get to periodically shift gears and work on research and teaching when I'm not on clinics. By the time I'm scheduled to return I'm ready to go.
"It's nice to spend time on slower-paced intellectual endeavors from time to time. It allows me to remember why I love veterinary medicine."