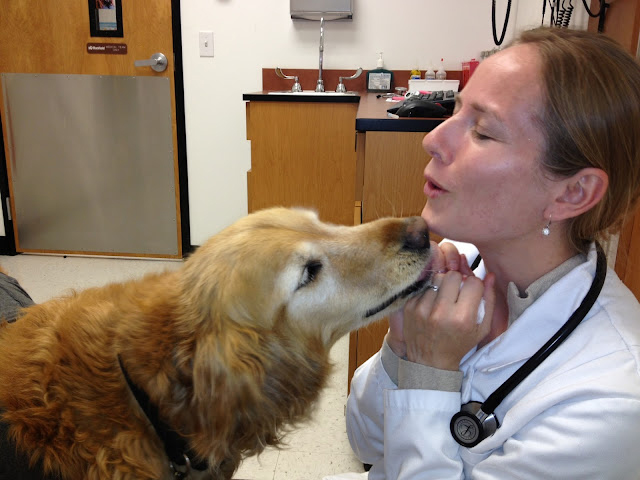 Dealing with Loss
Dr. Hayley Danson knows what losing a companion animal means.
"I've been through my own losses," Danson says. "They were hard.
"I'm highly emphatic and it's often easier to move through that process with the support of people who understand it."
That's why, after working for urban and rural veterinary clinics in the Pacific Northwest since graduating from Iowa State, Danson has started Hummingbird Veterinary Hospice Care with Dr. Melissa Knutzen, a long-time colleague.
"Offering hospice care means geriatric patients can stay in their home, rather than loading up in the car and going into a clinic," Danson said. "It's often easier to move through that process with the support of people who understand it and I don't mind sitting with someone and their grief."
Danson says she is naturally wired to be slow and methodical. She prefers detailed work and readily admits she is not cut out for the life as an ER veterinarian.
She much prefers spending time with clients and their companion animals, offering comfort and care, particularly since many of these patients have multiple medical issues.
Hummingbird Veterinary Hospice Care provides care in the home specifically for geriatric cats and dogs. Danson and Knutzen coach owners on how to care for their aging pets and their specific problems until the pet passes or is euthanized.
In addition to hospice care, Danson's services include home euthanasia.
"There are more places to take a pet into a clinic and have it euthanized than there are vets who go to the home to euthanize," Danson said. "Some dogs are not able to ambulate well and weigh over 100 pounds. Many other pets simply hate going to the clinic and the owners don't want that to be their last memory."
Danson can relate.
"I felt very exposed crying and carrying my dog into the clinic for euthanasia," she said. "We have done some really lovely outdoor euthanasias which were both peaceful and practical given COVID restrictions.
"Melissa and I started Hummingbird because there was a need in our area, and this particular niche allowed us to build relationships with owners that really feels like a partnership working toward decreasing an animal's suffering."