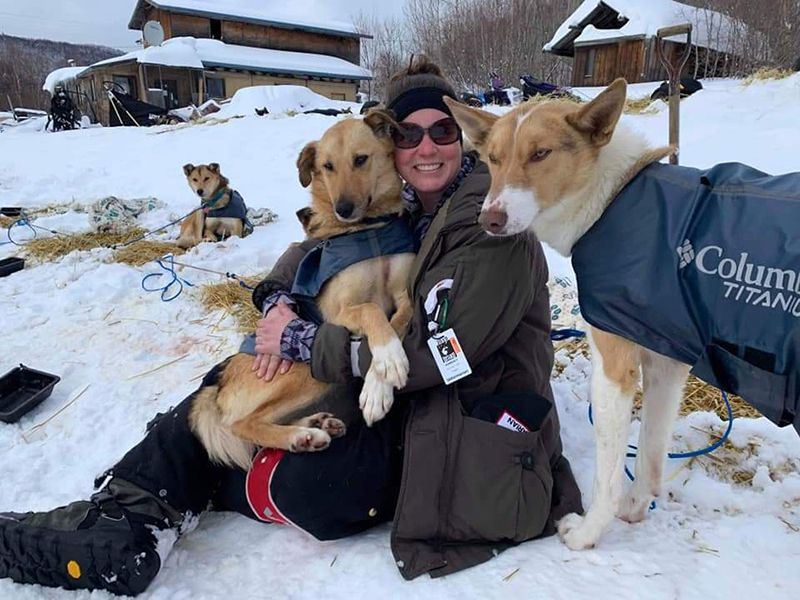 Doing What She Loves to Do
Most of the year, Dr. Kimberly McCreedy is a relief veterinarian in the Portland, Oregon, area.
She somewhat jokingly says she is in this line of work so she can do what she's really passionate about.
"The rest of my year is to make money so I can volunteer for sled dog races," McCreedy says.
McCreedy's interest in sled dogs began during her third year of veterinary school at Iowa State. A presentation by an Oklahoma State University veterinarian opened her eyes to the sport.

The rest, as they say, is history. She was able to arrange her fourth-year clinical studies to include a seven-week stay in Alaska for the Iditarod and Yukon Quest sled dog races. If she wasn't hooked before, this experience definitely did the trick.
Since then, McCreedy has volunteered for 20 sled dog races including 10 Iditarods, three Yukon Quests, five Eagle Cap Extremes, a sprint dog race in Fairbanks, Alaska, and one dryland race.
The Iditarod requires a minimum of five years of veterinary experience before individuals can volunteer as a veterinarian and treat the dogs.
So, even though she had a veterinary degree, McCreedy had to apprentice as what she called a "glorified vet tech" for a couple of years at the Iditarod. She has served primarily as a veterinarian but has performed other duties as well.

"They want you to have that experience because your care for the dogs is solely based on your exam and the dog's medical history," she said. "There are no diagnostics, no bloodwork, no x-rays available to you out in the field.
"You have to be very confident in your skills in conducting an exam."
McCreedy says, like any athlete, sled dogs develop sore muscles and joints during the race. Some will develop pneumonia, primarily if they run too soon after eating or in warm conditions, or rhabdomyolysis, a serious muscle condition.
Each of the three sled dog races McCreedy volunteers at are different. The most famous race, the Iditarod, is a grueling 1,000-mile trek from Willow, Alaska to Nome over at least eight days. The Yukon Quest runs from Fairbanks to the Whitehorse, Yukon Territories in Canada, another 1,000-mile run that takes anywhere from nine days to two weeks to complete. The Eagle Cap Extreme is shorter, just 200 miles and is run annually in her home state of Oregon.
Each race comes with its own special quirks, including extremely cold temperatures.

"For the Iditarod, we get to fly in small planes into villages you've never heard of," McCreedy says. "The Yukon Quest is such a tight-knit group where we get to drive and see the country. And the Eagle Cap Extreme has a real family feel to it.

"The coldest race I have been a part of was 52 degrees below zero on the Yukon Quest, but I wasn't bothered by the cold. Instead I embraced it."
During these races, McCreedy will provide a variety of veterinary care including making sure the dogs are fit to continue. Injuries are rare, but she has sown a cut on a dog's shoulder in the field. If the dog is determined to be unfit to continue in the race, they are withdrawn and not allowed to substitute back in later in the competition.
But just as much as providing the veterinary care, McCreedy is a fan of the dogs and the races.
"I love watching what these dogs can do," she said. "These athletes are so passionate about running. Watching a team leave the starting point gives me full body chills."