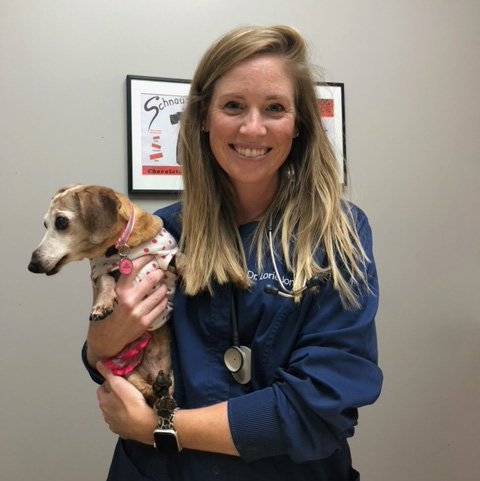 Early Reminder
Earlier in her career, Dr. Lori Painter Jones was conducting a routine appointment.
Right after graduating from Iowa State, Jones took a position at the Animal House Veterinary Clinic in St. Charles, Illinois. It was at this clinic where Jones was examining a dog.
"I was a new vet and the clients were new to the area," Jones said. "It was just a regular appointment but I conducted a thorough physical exam and did an in-depth review of the medical history."
During the "routine" exam, Jones found a rectal mass on the dog. The clients followed her recommendation to go to a specialist. The mass was removed and the dog recovered.
"This experience impressed on me just how important a good physical exam and getting thorough medical history is to every case," Jones said.
The case stuck has stuck with Jones ever since. She now lives with her husband and children in Terre Haute, Indiana, where she works at the Wabash Valley Animal Hospital, a small animal practice.
At Wabash Valley, Jones primarily sees dogs and cats. While spays and neuters and wellness checks top her daily job responsibilities, she has a special interest in veterinary dentistry and ultrasonography.
"I've really had an interest in dentistry since I was in vet school," Jones said. "I just really like it and I've become more proficient over the years."
Jones says it takes some prodding to get some clients to see the need for dental work on their dog or cat. 
"I do a lot of explaining," she said. "It's much easier to discuss a treatment plan when their dog is limping or their cat has an ear infection. I start talking to people about the need for dental care during their initial puppy or kitten exam."
Jones says it sounds cliché, but she always wanted to be a veterinarian since she was young. It could have something to do with the fact her father was a swine veterinarian in Nebraska. 
But despite that background and shadowing her father on calls, Jones decided a small animal practice was going to be her career path.
"I just love working with animals," she said. "My dad never pushed the profession on me, but I know he's happy I chose this career."
After working full-time for years, Jones has taken a step back from Wabash Valley Animal Hospital.
"I'm part-time now," she said. "It's good for me and my family."