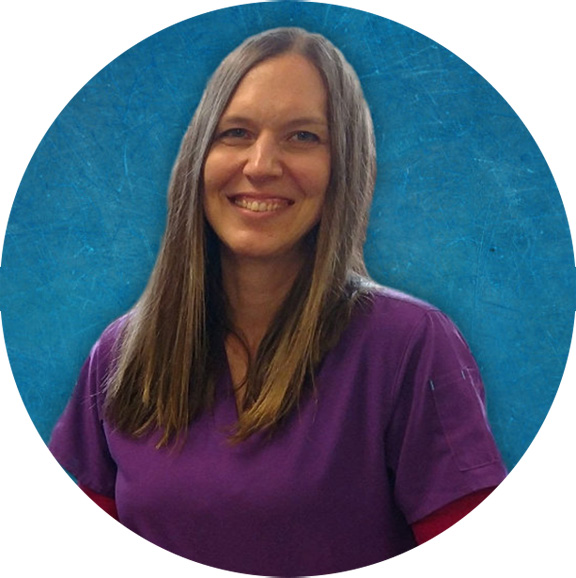 Kristin Baumgartner Gentile
Right before this interview, Dr. Kristin Baumgartner Gentile had an 18-hour day at the Pet Vet Animal Clinic in the western Chicago suburbs.
Several emergencies came through the door all at once. She had to do an emergency surgery because nearby emergency veterinary clinics were not staffed adequately.
It sounds like a horrible day.
But not to Gentile.
"In hind sight, although I am exhausted today, I'll admit it was fun," she said. "I genuinely want to help my patients and figure out what is causing their symptoms, although there is the frustrating aspect of not always being able to get to a definitive diagnosis due to client constraints."
Gentile is an associate veterinarian at Pet Vet Animal Clinic in Huntley, Illinois. She works relief emergency shifts at an area clinic as well as conducting vaccine clinics "on the side." She has also served as an emergency veterinarian and associate veterinarian at three other clinics since graduating.
Small animal wasn't the career path Gentile envisioned. She had dreamed and worked hard to be an equine practitioner and did an internship at the Merritt Equine Hospital.
"I wanted to gain more experience and real life knowledge," she said of her internship. "It didn't entirely prepare me for the small animal world that I ended up in, but it was still a good learning experience."
And she's still learning at her new clinic, a small, non-corporate business.

"What sets Pet Vet is that it's family focused," Gentile said. "I'm able to work around my kids' schedules much more easily now."
Which is good when you have an 18-hour day. Or a day filled with tough cases with difficult questions.
One such case in particular has stuck with Gentile over the years. It was her first exploratory surgery, which was ultimately successful.
"It stands out because it wasn't like anything we learned in vet school," she said. "While we did have actual foreign body surgeries in school to practice on, they are all different."
This case concerned a boxer puppy who had ingested the foam bedding from his dog bed. He didn't appear sick other than vomiting. He was still bouncing around the room and was super active.
"We learned in school that these guys are typically uncomfortable and lethargic, but not this guy," Gentile recalled. "He had dying intestine by the time we got into surgery and he needed a resection and anastomosis. This taught me that not every obstructed foreign fits the picture in the text book.
"The joy that comes from helping patients like this is what keeps me coming back to the office."