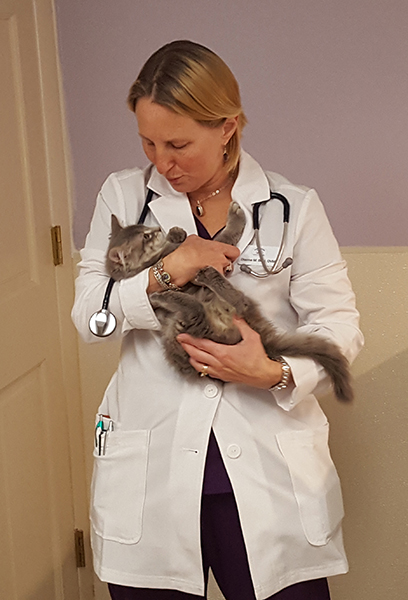 The path from a kid who loved animals to a veterinarian owning her own clinic has been met with a few twists and turns along the way.
But Dr. Dianne Beal always knew she wanted to work with animals and in the sciences. She just didn't think she would become a veterinarian.
"It wasn't necessarily my dream to be a veterinarian," she said, "actually at one point I considered being a marine biologist."
That dream never materialized and for a while it didn't appear veterinary medicine would be in her future either. The upstate New York native earned both her bachelor's and master's degrees and was working in the sciences as a researcher at a pharmaceutical company.
With a master's degree in cell biology, that would seem to be the career path she would take. Yet something was missing.
"I remember thinking that was so boring and tedious. Sitting under a flow hood all day was rather isolating," she said. "Now I never know what I'm going to be walking into on a daily basis."
So Beal decided it was "now or never" to get her DVM. She spent her first two years studying at the University of Edinburgh, Scotland, and although she enjoyed the experience she wanted to get back to the United States.
"Out of the blue, Iowa State wrote me asking if I was still interested and would like to transfer," she said.
The rest of her career came together. After graduating with her DVM from Iowa State, she completed a small animal internship with a focus on emergency medicine in Springfield, Virginia. After her career military husband retired, she worked at small animal practices in Connecticut and Rhode Island.
Then five years ago, she and her husband purchased a clinic in Mystic, Connecticut.
"Actually we bought a building that used to be a practice," Beal corrects herself. "The practice had closed."
Beal is the sole practitioner at Northeastern Veterinary Care Center. She treats the patients where she has a soft spot for her older patients and a special interest in dermatology. Her husband does "everything else."
"Everybody loves a puppy," she said. "I'm on the floor cuddling with them as much as anyone. But to be able to ease older pets into their later years and understand their special needs is what interests me.
"I tend to take a more practical approach with my clients that have older patients. I always treat them like they are my own pet and I will be honest with them. At times I feel a little guilty when I know how much it is going to cost to treat their pets."
When Beal says she treats them like her own pet she means it. When she moved across country she brought along seven dogs and three cats. Today her and her husband have two dogs and a pair of cats.
Her pets have come from rescue leagues she has been affiliated with and from clients who couldn't care for them. One is her pit bull, Rosie.
"Rosie was an abused case," she said. "Even though we had said no more pets, I just couldn't let this dog go back into that situation.
"To me it is a commitment."