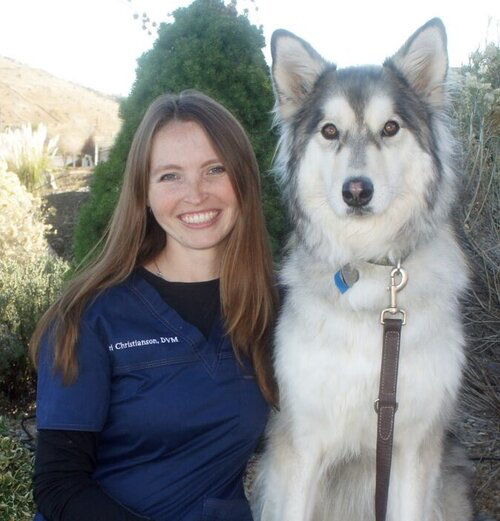 On the Move
Chicago. Ames. Oregon. Arizona.
Now Dr. Kari Christianson can add a country to the list of places she has lived and worked.
For the past two years, Christianson has worked at WAVES, a 24/7 emergency and specialty hospital in Victoria, British Columbia. She is an emergency and critical care veterinarian at one of only three veterinary hospitals in this sprawling metropolitan area on Vancouver Island.
"It's been interesting," Christianson said. "I didn't know this was how things were going to go when I graduated."
After leaving Iowa State in 2010, Christianson practiced on the Oregon coast for a year before deciding that state was a little too rainy. She changed it up by moving to Arizona to be near family where she started her own mixed animal practice in the rural White Mountains.
There she treated all types of animals and wildlife, both in the clinic and on the farm.
"I was the only doctor in the area," Christianson said. "Before I got there they didn't have a lot of access to service and I was on call essentially 24/7.
"When you have your own clinic it is a never-ending job. There are advantages as never having to compromise or making fun decision about purchasing equipment."
While Oregon experienced too much precipitation, Christianson dealt with other issues in Arizona. So, when an opportunity to move again came about, Christianson jumped at the chance to live in British Columbia. While the weather is more ideal and the crime is lower, the professional issues she faced in her previous stops were no different in Canada.
"We have lots of clients who are traveling five and six hours to see us," she said. "Since the pandemic we've seen a huge uptick in business but you just have to tell yourself to only concentrate on doing the best you can do."
While emergency and critical care are her passions, Christianson dabbles in caring for wildlife and exotic animals. She did some zoo work and wildlife rehab while in Arizona. Before moving to Canada, she couldn't say she had drawn blood from a river otter.
She can say that now.
Christianson can also say she has continued her volunteer work in her new home. While in Arizona, she became active with the local search and rescue team, searching for missing hikers and kids or individuals suffering from dementia who have wandered away from campsites. 
Since moving to Canada, she has started a new dog in training and is waiting to learn if his assessment will allow him to be accepted on a team.
"To be a part of a search and rescue unit involves a lot of training and certification," she said. "I like to give back to the community and they needed people.

"I love hiking, the outdoors and working with horse and dog teams. I don't like to have a lot of down time."