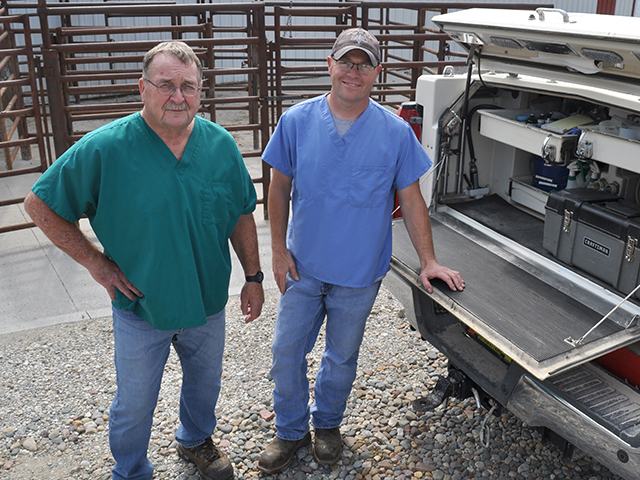 No Place Like Home
As long as Dr. Adam Hansen could remember, he would job shadow his father, Dr. Donald C. Hansen ('73).
He remembers walking from his junior high school to the Shelby Vet Clinic after classes were done for the day. If there was a call in the night, Adam would tag along with his dad. Summer, school breaks, holidays – it was all the same, Adam spent time with his dad and at the clinic.
"As far back as I can remember, I would go with Dad on calls anytime I had a chance," Adam said. "My goal was always to come back and work with him – that was my dream since a young age."
Even when he was a veterinary student at Iowa State, Adam would make the two-hour journey back home from Ames. Weekends, summers, it didn't matter, he was back at the Shelby Vet Clinic.
"Almost any chance I got, I was back here," Adam said. "Looking back, I probably should have spent more time getting to see how other practices operate, but it has worked out pretty well."
It shouldn't come as a surprise that Adam joined the practice after graduation and has remained in his hometown. Even then he couldn't stay away too long.
"I graduated on a Saturday, took Monday off, and then started work right away," he said.
"I told him to get back home and get to work," Don chuckles. "He knew the people already and that made it an easy transition. Adam was always a good, hard worker, and he brought back a lot of new ideas."
Shelby is and has been home to Adam. He calls it a good fit for him and now as an owner of the clinic after Don retired in 2019. The Shelby Vet Clinic is a four-veterinarian practice. All the vets are Iowa State graduates and, like Adam, have a connection to the Shelby area.
"Our goal is to find local people so hopefully they'll stay as we continue to build a successful practice," Adam said.
A mixed animal practice, the Shelby Vet Clinic sees primarily beef cattle with herds ranging from 30 head all the way up to 1,000. The clinic's veterinarians also see companion animals and a few horses and small ruminants.
Shelby is a small town just off of I-80 in the western part of Iowa. With a population of just 727, the Hansens and their staff work well past the city limits to see patients. Clients come as far away as Council Bluffs to seek services from the Shelby Vet Clinic.
"It's pretty unique to have four vets in a small community like Shelby," Adam said. "We stay pretty busy, but we do have to travel a lot of miles."

Don joined the Shelby Vet Clinic a year after graduating from Iowa State. In 1980 he bought the practice and has developed a client base that has passed along to Adam and his partners. Over the years, the clinic has expanded, which the son gives a lot of credit to his father.
"Dad was a pretty progressive vet," Adam said. "Over the years he has allowed us to purchase lots of equipment and update the practice, which has allowed us to practice a better quality of medicine."
It's a better quality of medicine in the community both Hansens love.
"I know these people," Adam said. "They were lifelong clients of my Dad's and now they are lifelong clients of ours.

"I love working in my hometown. It gives me a chance to help all the families that Dad helped."