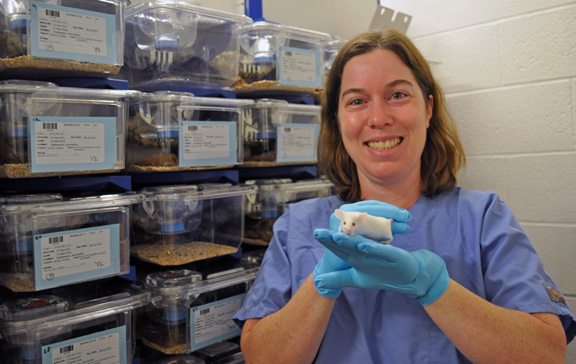 Perfect Fit
Dr. Amanda Ahrens Kress had always planned the traditional veterinary career path. She wanted to work in a mixed animal practice.
She did just that after graduating from Iowa State, first at a clinic in North Dakota for a year followed by five years at a Wyoming clinic.
Something was missing however in Kress' professional career. She wanted something different, but couldn't place her finger on what that would be.
A trip to the national AVMA Conference in Denver came at the right time. While at the conference, Kress went to a session on career changes.
"I knew if I was going to move on that private practice wasn't for me," Kress said, "but I had no brilliant ideas of what to do next."
The session Kress attended included careers in lab animals veterinary care. Despite no experience with lab animals, the possibility intrigued Kress. Afterwards she sought out the American Society of Laboratory Animal Practitioners booth in the exhibit hall. 
It turned out to be a perfect fit for Kress.
"The work is still clinical. It's still hands-on, plus I would be involved in research," she said.
She made the decision to make a career leap. She applied for residencies and reached out to the Laboratory Animal Resources (LAR) at Iowa State.
Kress was encouraged to apply for an open veterinary position in LAR/ Today she is one of LAR's veterinarians who provide quality animal care to animals used in Iowa State research projects.
LAR is located in the basement of the College of Veterinary Medicine and although some of the animals are used in research projects undertaken by the college's faculty, the two organizations are not affiliated.
Ironically, as a veterinary student, Kress was unfamiliar with the office. In fact she says she "would walk right by the office and didn't realize what it was."
Kress describes her clinical work as a "mixed animal practice" with a variety of responsibilities. Some days are spent sitting at a computer ("not my favorite days") and others are spent with clinical responsibilities.

"I still get to do surgeries, although they are different," she says. "Not as many spays and neuters." 
She does rounds, looks at sick animals and prescribes treatment plans. She will treat dogs, goats, sheep, rats, mice and hamsters. She had to learn how to give IV injections to mice.
It's those challenges that Kress loves about her job.
"I still get to do herd health, but it's more with mice than cattle," Kress said. "We play a role in making sure the university and its researchers are following all the required protocols and that we meet or exceed expectations in the care of our research animals.
"As a team, we work to help make the various research project successful. I also serve as an advocate for the animals, making sure they have the best welfare possible."